GOAgaga Holidays by Ginza - 9764673070/9969188513
GOAgaga has TWO one BHK apts. One is in Saligao. The other is in Arpora.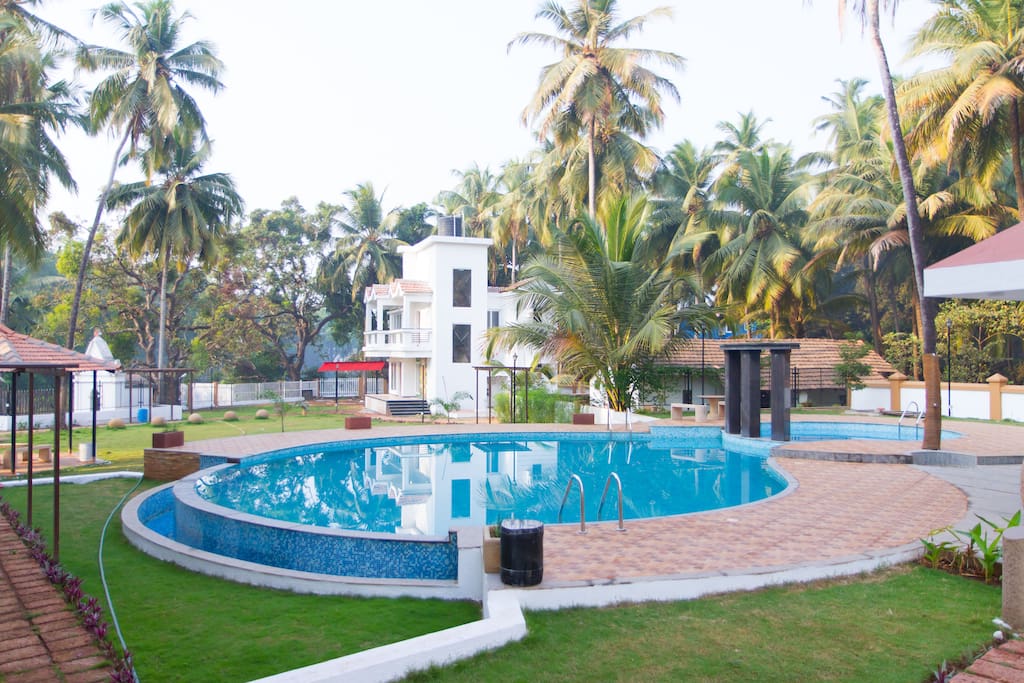 GOAgaga-Near Club Cabana/Baga beach
Arpora, North Goa, India
Fully air-conditioned, furnished 70 sq mt self catering one BHK apt 2.5 kms frm Baga beach in Arpora, in a guarded complex Aqua Grandiosa, daily house cleaning. Extremely safe for family, couple n ...
BOOKING OPTIONS ARE: IF YOU NEED A THIRD PARTY PORTAL PL USE

PayUMoney. IF YOU WANT TO BYPASS SERVICE FEE AND ARE

COMFORTABLE PL BOOK DIRECTLY

​WITH

ME BY ELECTRONIC TRANSFER.
The GOA and gaga experience- GOAgaga!!!
Hello
Am GOAgaga - ONE-BHK LUXE VACATION RENTALS IN SALIGAO and ARPORA n the darling offspring of GOA and gaga.

(Contact Ginza at 09969188513/09764673070)

Calendar updated only for the ongoing month as a custom pattern. Pl check with 09764673070/09969188513 for availability. Details, including tariff are updated Aug-Sep every year so pl ask for anything specific.

(1) AN AFFORDABLE SELF-CATERING HOLIDAY RENTAL FOR YOUR TIME IN GOA
(2) WELL-APPOINTED N WELL-MAINTAINED WITH DAILY CLEAN-UP
(3) AUTHORIZED SENSIBLE SOCIETY
(4) GOAgaga SALIGAO IS 61 SQ MTS n GOAgaga ARPORA IS 70 SQ MTS - ONE BHK APTS
(5) GATED n GUARDED COMMUNITY
(6) ALL POSSIBLE AMENITIES YOU COULD THINK OF AS A HOME
(7) 3-4 KMS FROM CALANGUTE/BAGA BEACHES
(8) GROCERIES, FINE-DINING IN WALKING DISTANCE N HOME DELIVERY JOINTS
(9) AN INTELLIGENT LOCATION TO ENJOY THE SYLVAN CHARMS
(10) SUBSEQUENT STAYERS HAVE ATTRACTIVE FREEBIES!
(11) POWER BACK-UP ADDED (for fans n lights)

My Story...
...is simple. gaga came to holiday in Goa and some moons later I wriggled my way out in blood and sweat, kicking and stomping.
Let me talk about Mom and Dad
My dad, Goa, comes from the Western Konkan region of India. Cradled by waters and hills, checkered by various dynasties and cultures, my dad has evolved into a melting pot of warmth, solidarity, mirth, bouncy sea, delicious sands and land. He loves to have the world over and people love his genteel temperament and robust spirit.
The Lovely Melange that GOA Is!

My mom, gaga, believes each holiday tosses a different experience.
She likes to savor each place in her fun terms and naturally when she
met my dad she dropped dead at his feet ;) She loves to dabble in edge-
of-the-plate cuisines and touts Goan cuisine to be a consummate
placeholder. Her fave eatery is
Andron near Mapusa
and
Calamari Beach
​
S
hack
for the quintessential Goan
palate experience and music.